INVENTORS OF THE ENGINE TREATMENT
Since 1978, motorists have relied on the superior technology of Slick 50® to protect their vehicle's vital parts from friction & wear, so they can achieve the performance they crave today and down the road. From Engine Treatments to Fuel System Cleaners to Transmission Treatments, Slick 50® products are formulated with superior chemistry to ensure they clean, protect and optimize performance of critical systems.
INCREASED PERFORMANCE
For years, Slick 50® has increased engine performance and helped protect your investment. Now the inventors of the engine treatment are releasing customized formulas that will Supercharge your vehicle's performance and Recharge performance in your high-mileage vehicle.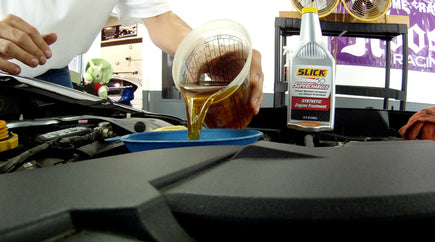 Supercharged®
Slick 50® Supercharged products are custom designed to get maximum horsepower and ultimate performance from your vehicle. Supercharged technology fights power-robbing friction and heat to unleash your vehicle's performance.
Recharged®
Slick 50® Recharged products are designed specifically to restore performance to your high-mileage vehicle. As your vehicle gets older it may suffer from wear and tear associated with high-mileage. Slick 50® Recharged technology helps protect your investment and recharge your engine's performance.